Event Date | 22nd Jun 2023
Swimming and Aquatics Conference 2023 – Pools Of The Future
Date – 22 June 2023
Meeting Type – Virtual/Members Only 
Booking – Please complete this booking form if you'd like to join us.
Description
At this year's Swimming and Aquatics Conference we'll be joined by Swim England, Scottish Swimming, Swim Wales, STA, The BSA, Future Lidos and PR Company, Message Matters. 
We will also be hearing from two of our CLUK members Half Fish HQ and Withington Baths. 
This year's itinerary is listed below and we've put a big focus on the work to save our pools and future proofing them.
This event is fully funded by Community Leisure UK and is free to all members. Please feel free to drop in and out of the conference as best suits your diary. But please registers as soon as possible.
Itinerary 
9:30am – Welcome by Chair of CLUK Swimming and Aquatics Special Interest Group, Shelley Whitehead from Half Fish.
9:40am – #BigSwimDay Campaign Update – Chris Story and Chris Wands, Senior Associates at Message Matters.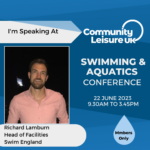 10:00am – Decarbonisation of Pools, Richard Lamburn, Head of Facilities at Swim England. 
"This presentation will look at the work Swim England have been undertaking alongside sector partners and government bodies to evaluate technologies available to pool operators and designers that can aide in reducing a facilities carbon footprint and energy consumption. In many cases this can support reducing the operation costs of facilities alongside cutting CO2 emissions."
10:30am – Future of Facilities in Scotland, Euan Lowe, Chief Executive Officer and Ally Whike, Director of Aquatics at Scottish Swimming
"Scottish Swimming will provide insight into the evolving work that they are undertaking in understanding the swimming pool facility stock across Scotland, and its energy demands, with a look to the future."
11:00am – Break
11:15am – #OurSwimStory research findings by Damian Stevenson, Strategic Consultant – Research, Insight and Partnerships at The Black Swimming Association (BSA).
"The #ourswimstory research project has been a labour of love for the BSA. In collaboration with agency, AKD Solutions, it shines a spotlight on the complex, often multi-faceted barriers that prevent ethnically diverse communities from engaging in aquatic activity. This presentation will share emerging insights from the project along with recommendations for change."
11:45am – EDI and School Swimming, Sioned Williams, Head of Aquatics and Inclusion and Hanna Guise, National Learn to Swim Manager, Swim Wales/Aquatics Team Swim Wales.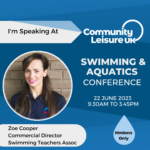 12:15pm – STA's STARLIGHT campaign by Zoe Cooper, Commercial Director Swimming Teachers Association (STA)
Zoe Cooper, STA's Commercial Director will be sharing details of a new UK-wide educational charity campaign called STARLIGHT, which has been created by STA to shine a light on disability swimming.
12:45pm – Lunch
13:30pm –Keynote speaker: Hannah Miley. Three-time Olympian having represented Team GB at Beijing 2008, London 2012 and Rio 2016. Hannah will be telling her story about how public pools played a huge role in her success as well as discussing the importance of publicly accessible pools and the real value these hold for communities across the country.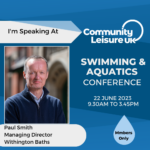 2:00pm – Withington Baths historic pool by Paul Smith, Managing Director and Dennis Shannon, Facilities Manager Withington Baths.
"Withington Baths will discuss securing and managing the heritage lottery funding, the challenges of communicating with members and community involvement in the work itself."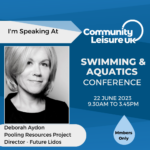 2.30pm – Pooling Resources Project, Future Lidos by Deborah Aydon, Pooling Resources Project Director Future Lidos.
"Deborah will be discussing the 'lido revolution' in response to community demand and how Future Lidos came about. She's also be taking about the creation of Pooling Resources as a collaboration across the UK & Ireland and the range of values and goals that bind them. The presentation will also focus on advocacy, business models and community engagement."
3:00pm
–

Break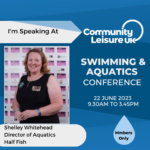 3:30pm – Green Shirt Volunteering Project, Shelley Whitehead, Director of Aquatics Half Fish HQ.
Community Leisure UK member, Half Fish, will give an overview of their Green Shirts volunteering project. Members can learn how volunteering can help keep young people involved at the pool, the benefits this brings to the young people and the pool – in terms of both recruitment and retention.
3:45pm – Conference Close – Closing remarks by Shelley Whitehead from Half Fish.
Map Unavailable