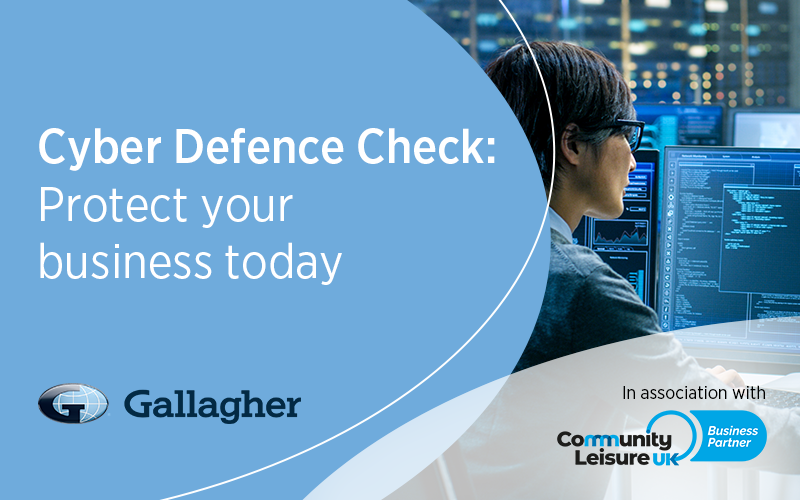 With recent research suggesting that 24% of UK charities identified a cyber-attack or breach in the last 12 months1, it's crucial that all charities bolster and improve their cyber security processes before it's too late.
As a valued member of the Community Leisure UK, Gallagher is proud to offer you the opportunity to book a complimentary Cyber Defence Check to discuss your organisation's IT security and any concerns you may have.
The 30 minute consultation will be carried out by a member of Gallagher's Cyber Risk Management Practice team and include:
A discussion around your organisation's Cyber Risk Management procedures against industry best practices.
An open-source intelligence investigation of your organisation's publicly-facing assets.
A chance to speak with an industry specialist and discuss your cybersecurity strategy.
Bespoke advice from the Gallagher Risk Management team.
Benefits for your organisation
A greater understanding of your current IT security and potential risks.
Enhanced cyber security awareness throughout your organisation.
A follow-up roadmap to cybersecurity maturity, plus further information on how our team can assist.
BOOK YOUR CYBER DEFENCE CHECK HERE
To find out more, please get in touch with Gallagher's Charities team.
Martin Taylor
SME and Mid-Market Director, Charity and Healthcare Division, Gallagher.
+44 (0)1212 627 703

1 The Latest Cyber Crime Statistics (updated June 2023) | AAG IT Support (aag-it.com)
Arthur J. Gallagher Insurance Brokers Limited is authorised and regulated by the Financial Conduct Authority. Registered Office: Spectrum Building, 55 Blythswood Street, Glasgow, G2 7AT. Registered in Scotland. Company Number: SC108909. FP865-2023 Exp. 22.06.2024