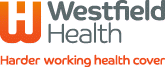 We are Westfield Health. In 1919 we committed to being at the forefront of keeping hardworking people fit and healthy.
Almost a century on and we still have the same beliefs, the same vision and the same values we started out with –
leading the way with affordable, innovative and best in class healthcare solutions that work harder to support people throughout their working lives.
Every day, we're enabling more people and their families to confidently take control of their health. We're championing a fresh and holistic approach to wellbeing at work and at play. Our range of innovative healthcare solutions focuses on both treatment and prevention for the body and mind.
We're passionate about looking after people. Innovating, listening, caring, delivering and keeping people at their healthy best. It's what we do.
We're not for profit, so we'll always put something back. We do this by reinvesting our surplus into providing even better products and services. We also support local communities with regular donations to both the NHS and medically related charities, and we place great emphasis on our social and environmental responsibilities too.
We're delighted to work in partnership with Sporta Trusts, giving you the opportunity to differentiate your offering and give members access to integrated health and wellbeing services.
Contact us:
Zoe Temperton
07501 460290
zoe.temperton@westfieldhealth.com
Westfield Health, Westfield House, 60 Charter Row, Sheffield, S1 3FZ