Published on: May 5th 2021
Last updated on August 23rd 2023
Community Leisure UK members actively contribute to improving the health and wellbeing of the communities they work with. Community Leisure UK actively promotes the health and wellbeing work of charitable trusts and supports its members through projects, guidance and collaboration with partners on their cultural work.
On this page you will find: –
NEW England Health Report – Supporting Integrated Care Through Leisure & Culture
Almost £450 million of social value was created in the last 12 months by Charitable Trusts in England.
This staggering figure is part of a new report by Community Leisure UK, which is encouraging health professionals in England to Connect, Visit and Collaborate with their local Charitable Trust and help support the Government's patients first approach.
The Supporting Integrated Care Through Leisure and Culture Report also makes it clear that while social value figures are impressive, the power of Charitable Trusts lies within their person-centred approach to health and social care. Please do take the time to download and read it.
The Report
Case Studies
Infographic England Health Report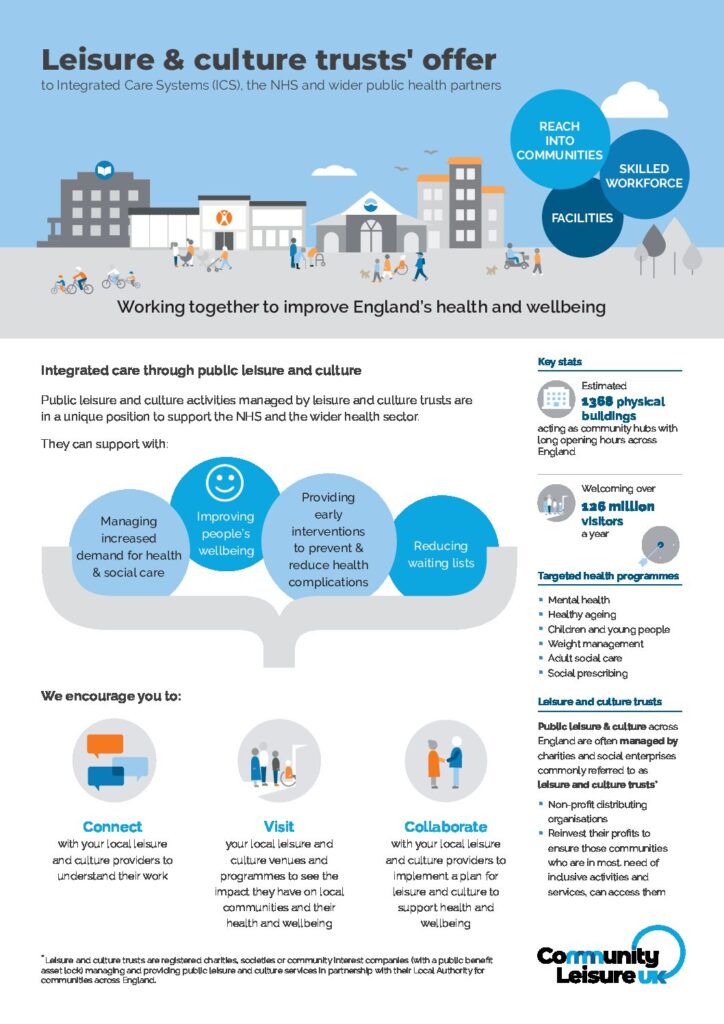 Wales Health Report -Leisure and Culture Trusts Health and Wellbeing Support to the NHS in Wales.
Charitable Trusts in Wales can play a pivotal role in reducing pressure on the NHS through rehabilitation, 'prehabilitation' and preventative services.
That's the verdict in a new report jointly produced by the Welsh NHS Confederation and Community Leisure UK.
Both organisations are calling on health professionals and Leisure and Culture Trusts in Wales to connect and collaborate more moving forward.
Find out more by downloading the report or reading it here.
National Strategies
Policy Briefing: How trusts' sport and leisure activities improve communities' wellbeing
Our members, charitable leisure and culture trusts, continually strive to offer a safe and welcoming space, with a range of activities and professional advice on hand. As community anchors, regardless of their location or size, member trusts share a common goal of being accessible to everyone and providing opportunities to encourage everyone to be active and involved, whatever their circumstances. Please have a look at our views on how trusts improve communities' health and wellbeing through various inclusive sports and leisure activities here.
Policy Briefing: How trusts' cultural work improves communities' wellbeing
With the increase in reports and news articles coming out that arts and cultural activities are good for your wellbeing, it is time to shed a light on what cultural trusts in particular are doing to improve communities' wellbeing. While of course there are many examples, we brought together some innovative ways in which our members are organising their arts and cultural activities – from museums, to festivals, and social prescribing. We invite you take a look at our views on the health and wellbeing impacts of trusts' cultural work here.
Policy Briefing: Creating Healthier Communities Through Social Enterprises
In collaboration with Social Enterprise UK we submitted a policy briefing to the February 2020 edition of House Magazine. It is crucial that social enterprises within public leisure and culture are recognised as significant partners in creating healthier communities; including them in our health systems is key. Our briefing can be viewed here.
Resources
Supporting Scotland's Public Health Priorities
We are delighted to share our recent document, produced by members of our Health Group in Scotland, outlining the collective contribution of our members to the 6 Public Health Priorities for Scotland, which are:
• Vibrant and safe places
• Flourishing early years
• Mental wellbeing
• Reducing use of harmful substances
• Equality economy
• Eating well and physical activity
The document provides a snapshot of the great work taking place right across the country, supporting the health and wellbeing of communities and can be seen here.
Community-Leisure-Scotland-Health-Priorities-Document

PDF Embedder requires a url attribute
Collaboration with the Welsh NHS Confederation
We have created an introductory blog published on the Welsh NHS Confederation website on 12 August 2021, highlighting the wide range of activities organised by Welsh leisure and culture trusts, and the support provided by CLUK members to the NHS during the Covid-19 pandemic.
Following on from this, Community Leisure UK and the Welsh NHS Federation will produce a joint briefing on how leisure and culture trusts support the NHS priorities, encouraging local health boards and NHS partners to work more closely with charitable trusts.

Sporta Purple
In 2014, back when we were called Sporta, we developed a comprehensive guide which gave insight into what members do to contribute to the public's health. The guide was called Sporta Purple and be viewed here. Community Leisure UK is currently updating this guide.