Meno Active: Empowering Women through Exercise, Nutrition, and Well-being during Menopause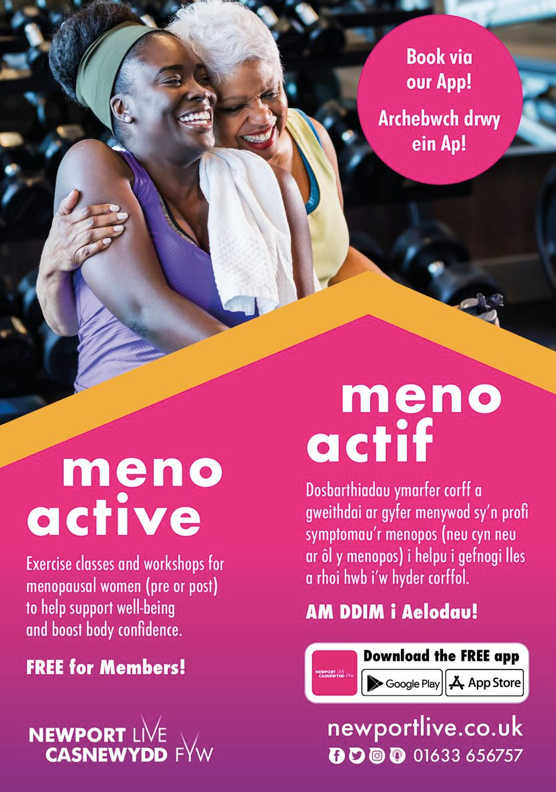 Overview of the Initiative
Meno Active is a targeted program offered by Newport Live Leisure Trust, specifically designed to support pre to post-menopausal women in reclaiming control over their bodies and overall well-being. Recognising the physical and emotional challenges faced during this life stage, Meno Active provides exercise, and well-being advice to help women understand and navigate the changes that occur during menopause. The initiative creates a supportive group environment offering classes and workshops with insightful tips, and empowers women to lead healthier lives and have a support network.
Some of the sessions offered (and why) include:-
Meno Strength:-
Resistance training and functional movements via a group-based gym session to boost body confidence, strength and bone health.
Strength training stimulates the release of endorphins, the body's natural mood-boosting chemicals. These endorphins help alleviate stress, reduce anxiety, and enhance feelings of happiness and well-being. Regular strength training sessions can create a consistent and reliable source of endorphin release, leading to an improved overall mood.
Engaging in low-impact weight training provides a physical outlet for stress release. As womens challenge their muscles and engage in repetitive movements, they can experience a sense of focus and concentration that helps alleviate stress and tension.
Strength training helps build physical strength and resilience, which can have a positive impact on self-confidence and self-esteem. As women navigate the changes and challenges of menopause, feeling physically strong and capable can boost their confidence, promote a positive body image, and enhance their overall sense of self.
Meno Yoga
Sessions are tailored to help with reducing the emotional symptoms of menopause and relax the body.
Menopause can be accompanied by increased stress levels due to hormonal changes and various life adjustments. Yoga incorporates deep breathing techniques, meditation, and mindfulness practices that help activate the body's relaxation response. This can reduce stress levels, promote a sense of calmness, and provide tools to manage stress more effectively.
Hormonal fluctuations during menopause can contribute to mood swings, irritability, and feelings of anxiety or depression. The physical movements, breathwork, and mindfulness cultivated in yoga can help regulate emotions and enhance mood. Yoga encourages the release of endorphins, the body's natural mood-elevating chemicals, leading to an overall sense of well-being and improved emotional balance.
Insomnia and sleep disturbances are common during menopause, which can further impact mood and overall well-being. Meno-Yoga promotes relaxation and stress reduction, preparing the body and mind for restful sleep. Specific yoga poses and sequences can help relieve tension, relax the nervous system, and establish healthy sleep patterns, leading to improved sleep quality.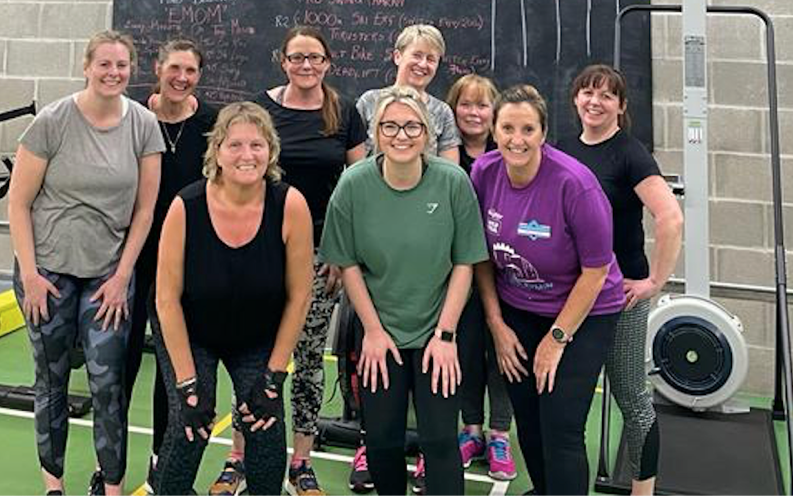 Meno Pilates
Menopause can sometimes lead to changes in posture, such as rounded shoulders or an increased curvature of the spine. Pilates exercises target core strength and promote proper alignment, helping individuals improve their posture and body awareness. Enhanced posture can positively impact self-confidence and contribute to a more positive body image.
Pilates emphasises the mind-body connection, focusing on controlled and precise movements that require concentration and body awareness. This mindful approach can help individuals in menopause develop a greater sense of self-awareness and mindfulness, allowing them to better manage and regulate their emotions.
Participating in group Pilates classes can offer social interaction and support from classmates and instructors. Pilates studios often foster a welcoming and supportive environment, allowing individuals to connect with like-minded individuals and build relationships. This sense of community and camaraderie can provide emotional support and a sense of belonging during the menopause transition.
Meno-Workshops
Meno Workshops
The Meno Workshop was a 6 week programme designed for pre and post menopausal women to gather, connect, and share experiences related to the menopause journey. This welcoming and supportive environment brings women together to openly discuss their symptoms, exchange tips, ideas, and provide mutual support while enjoying a cup of coffee or tea.
During each Meno Workshop session, a variety of topics relevant to menopause was explored such as:-
Maintaining Bone Health and Strength: Learn about the importance of bone health during and after menopause, and explore exercises, dietary recommendations, and lifestyle modifications to promote strong bones and prevent osteoporosis.
Sleep Solutions for Menopause: Discuss common sleep disturbances experienced during menopause and share sleep hygiene practices, relaxation methods, and natural remedies to improve sleep quality and combat insomnia.
Hormonal Changes and Hormone Replacement Therapy: Gain insights into the hormonal changes occurring during menopause and explore the pros and cons of hormone replacement therapy, including alternative options and lifestyle adjustments.
Collaboration with Public Health Wales and the Department of Work and Pensions:-
Since the launch of Meno-Active it lead to Newport Live successfully collaborating with Public Health Wales and the Department of Work and Pensions (DWP) to research the impact of menopause on women's employment prospects. Newport Live attended a 50+ (age) employment outreach event to understand the challenges women face during the menopausal transition to help research strategies to support their employment and wellbeing. The report provided qualitiative insights into the difficulties women encounter due to menopause-related symptoms, such as reduced confidence and cognitive difficulties, which can affect job prospects. The evidence generated from the report and its findings is the first of its kind in this research field. It emphasises the need for awareness, accommodations, and support in the workplace to empower menopausal women and enhance their overall well-being during this significant life stage.
Key Benefits/Outcomes:
The Meno Active program has yielded significant results since its launch in November 2022. Here are some key benefits, outcomes, and data from the program:
Total Engagement: Over the past 8 months, a total of 103 individual women have actively participated in the Meno Active program. This demonstrates the program's reach and effectiveness in engaging women who are seeking support and resources during the menopause transition.
Pilates Attendance: The Pilates sessions within the Meno Active program have been well-received, with a total attendance of 248 spaces filled. This high attendance indicates the popularity and effectiveness of Pilates in addressing the physical and mental well-being of menopausal women. Pilates exercises are known for improving core strength, posture, flexibility, and overall body conditioning.
Meno Strength Attendance: Meno Strength sessions have also seen significant participation, with a total attendance of 259. Strength training exercises are crucial during menopause to maintain muscle mass, promote bone health, increase metabolism, and enhance overall strength and vitality.
These attendance figures demonstrate the positive response and engagement from women who have enrolled in the Meno Active program. The program's focus on various exercise modalities, including Pilates, strength training, and yoga, allows women to choose sessions that best suit their preferences and needs.
The Meno Active program's success lies in its ability to provide a comprehensive approach to menopause management, addressing physical fitness, emotional well-being, and overall quality of life. By offering a range of sessions tailored to the specific needs of menopausal women, the program empowers participants to take control of their health and experience the numerous benefits associated with regular exercise during this life stage.
Meno Active supports women in regaining a sense of control, confidence, and well-being during menopause.
Targeted classes: The program offers a range of exercise classes tailored to address the specific needs and challenges of menopausal women.
Comprehensive approach: Meno Active encompasses exercise, nutrition, and well-being advice, providing a holistic solution for menopausal women.
Supportive group environment: Women can connect with others experiencing similar challenges, fostering a sense of community and support.
Increased knowledge: Participants gain a better understanding of the physical changes that occur during menopause and are equipped with practical solutions.
Improved physical health: Meno Active helps combat decreased bone mass, insulin resistance, weight gain, and loss of strength.
Enhanced mental well-being: By addressing brain fog, energy levels, and temperature fluctuations, Meno Active supports women in achieving greater mental clarity and stability.
The Challenge:
The initiative was developed to address the numerous challenges faced by women during menopause, such as physical changes, decreased confidence, and a lack of support and understanding.
What They Did:
Newport Live Leisure Trust established Meno Active as a comprehensive program that combines exercise, nutrition, and well-being advice. The initiative was designed to offer a supportive group environment where women could connect with others and receive guidance from knowledgeable instructors.
Results and Benefits:
Positive feedback from members: Numerous women have expressed that Meno Active has significantly improved their lives and well-being.
Increased collaboration: Meno Active gained interest from Public Health Wales, leading to a collaboration that aims to empower more women to prioritise their health.
Testimonials from participants: "Meno Active has provided me with a supportive community where I feel understood and empowered. I have regained my confidence and physical strength." – Claire, Meno Active participant.
Overcoming Obstacles:
Throughout the implementation of Meno Active, the initiative faced challenges such as addressing misconceptions surrounding menopause, creating a safe and inclusive environment, and ensuring the program's accessibility to all women. However, by providing accurate information, fostering a supportive atmosphere, and adapting the program as needed, these obstacles were successfully overcome.
We recognise the importance of inclusivity and the need to overcome obstacles in engaging men. While men do not experience menopause directly, they can play a significant role in supporting their partners, friends, or family members who are going through this transition. By increasing awareness and encouraging men to become engaged in the program, we can foster a more inclusive and supportive environment for everyone involved. This will be part of the implementation strategy in phase two for us to overcome.
Takeaway Tips:
Provide women with accurate information about menopause, helping them understand the changes their bodies are experiencing.
Foster a sense of community and understanding by bringing women together in a group setting where they can share their experiences and support one another.
Offer a comprehensive program that addresses exercise, and well-being, acknowledging that menopause affects various aspects of women's lives.
By implementing Meno Active, Newport Live Leisure Trust has successfully supported menopausal women in regaining control, boosting confidence, and improving overall well-being. The program's comprehensive approach and supportive environment have led to positive outcomes, inspiring collaboration with Public Health Wales and empowering more women to prioritize their health during the menopausal transition.
Testimonials
"Just wanted to say that since I joined everyone I have met has been so lovely and helpful – it has really enabled me to get into positive habits and attend.
The instructors are lovely, giving me my meno strength induction week 1. I loved working with Bryony and have attended a few velo classes and had a health check with Giovanna too. I would be grateful if you could pass on my positive experience and thanks" Claire Hill (Newport Live Member).
"I've been a gym member at Newport since September 2022. I have enjoyed using the facilities at all venues and attending taught classes, including yoga, pilates, and body sculpt. I recently discovered the Meno-Active classes on the app and have attended Meno-strength. This class has given me the confidence to use a wider range of gym equipment which I used to be reluctant to use. It has also been informative regarding my bodies needs and changes during menopause and how important it is to increase muscle strength and bone density during this time in my life. I look forward to continuing to participate in these classes, and I am open to new menopause fitness plans as Meno-Active evolves and the new sports centre is built in Newport City Centre." Julie Jones (Newport Live Member).
"As a fitness instructor for the Meno Active strength training class, I am thrilled to witness the incredible sense of team spirit, comradery, and support that our participants bring to each session. It is truly inspiring to see women coming together, sharing their experiences, and forming strong bonds as they navigate the challenges of menopause. Strength training helps women maintain muscle mass, increase bone density, and improve overall strength and balance. These physical benefits are crucial during this stage of life when hormonal changes can impact our bodies." Kayleigh Greening – Newport Live Group Exercise and National Exercise Referral Instructor (ABHB).
"Within my specialist NHS Menopause clinic, Newport Live Meno Active has been specifically mentioned by two patients who described the programme as 'lifesaving'. They both highlighted that the programme allowed them to regain their sanity and the peer support they received was invaluable. This programme beautifully demonstrates collaborative working and holistic care."
Dr Michelle Olver, Consultant in Sexual + Reproductive Health and Menopause Lead, Dept of Sexual and Reproductive Health, St Cadocs Hospital, Aneurin Bevan University Health Board.
ends