Published on: December 7th 2022
ACTIVE Tameside member Paul Barraclough has stepped forward to inspire and encourage others following a truly incredible weight loss and fitness journey which has given him a new lease of life.
The 56-year-old, father-of-five, was 22 stone and taking 20 tablets a day to treat a number of health conditions including type 2 diabetes, hypertension, gout and depression.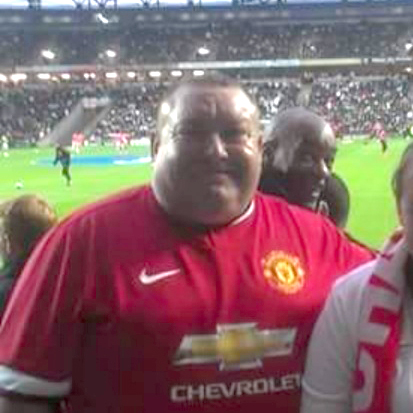 The shock of losing his mum to ovarian cancer a week after being diagnosed jolted him into seriously considering his own health and it motivated him to begin a weight loss programme through his GP.
Eight years later, Paul has lost an incredible 10 stone and he now attends the gym at Active Tameside's flagship facility, Tameside Wellness Centre, in Denton, up to four times a week.
His health has improved so significantly, he now takes just three tablets a day and says he feels the healthiest and fittest he's been in 30 years – and it's all down to his sheer determination to turn his life around by eating healthier and exercising.
Paul said: "I lost my mum to ovarian cancer within a week of her being diagnosed and it was a big wrench. We were all very close and she was the kingpin of the family who held us all together. It really hit home and I thought, 'I've got my children and my wife, if I carry on the way I am, I'm not going to be here much longer'."
"My mum was very old school when it came to cooking, she loved cooking and baking for her family. Stew and dumplings, steak puddings, you name it, she made it and while it was good, home-cooked food, it wasn't the healthiest. From an early age I was a big lad. Eight years ago, I was 22 stone, I had a 54in chest, a 48in waist and I'm 5ft 4ins tall. I had all sorts of health problems, just walking down the stairs or to the shops I'd be out of breath and I couldn't wear normal-sized clothes.
"Starting to eat healthily was just a life changing experience for me.
"Previously, I could eat four bacon sandwiches easily for breakfast, for dinner I would eat pie and chips and a full packet of biscuits with a cup of coffee. It was easily done so the calories were piling on. I didn't want to go out because my confidence level was zero. I didn't want to speak to people because I basically felt ugly about myself and I'd felt like that for years, even before my mum passed away.
"I was a mess, losing my mum was the kick I needed."
Paul is the first to admit that becoming who is today wasn't an easy journey at times.
Advised by his GP to supplement his weight loss with exercise, he attended Active Ashton and Active Hyde gyms with a friend.
But when his friend gave up, Paul said he eventually lost motivation and fuelled by the grief of losing his mum, he began spiralling back into his old ways.
As his health continued to suffer and his confidence hit rock bottom, Paul managed to regain the strength and determination to start again, halving the size of his meals, eating healthier and going back to the gym.
By self-managing his weight loss and after attending a Tameside Council course to rebuild confidence and self-esteem, Paul became a member at Tameside Wellness Centre and soon gained the feel good of physical activity.
With the help of the Tameside Wellness Centre team, he embarked on a programme of strength and cardio exercises and now visits up to four times a week – popping into the sauna and steam room when he can for some well-deserved chill out time.
Paul and his family have also benefitted from Active Tameside's Live Active service which works to improve the health and wellbeing of those with long term health conditions through an ongoing physical activity programme and expert support.
He referred his 22-year-old daughter, Kirsty – who suffers from psychosis – and she now attends Tameside Wellness Centre gym with Paul and his wife Katherine.
Paul added: "I'm a full-time carer for Kirsty and the Live Active service has really helped me to encourage her to get into physical activity. Her mental health is improving and she's definitely getting there by being more physically active."
"It's great to go as a family and when one of us doesn't feel like going we motivate each other and then feel much better for it.
"Tameside Wellness Centre facilities are second to none and the staff are brilliant."
Paul, who now has a one-year-old grandson, is determined to use his experience to help others battling weight, health and mental health issues.
"I can walk for miles now. I could never do that before," he said. "I've got a new lease of life and so much more confidence now. If I can do it, anyone can do it and it's my goal to help other people to achieve their weight loss and fitness goals if I can. I feel like I'm in my prime now. It's time to live my life."
Collette Traynor, a Fitness Instructor at Tameside Wellness Centre said: "I bumped into Paul on one of my shifts at Tameside Wellness Centre. He was full of life and stopped me to share his amazing story. Paul is a gentleman who is full of determination and spirit. He is a wonderful example of how amazing, positive transformations can be achieved when you set goals and put your mind, determination and efforts into accomplishing something.
"Paul has so much enthusiasm and it's a joy to see. He is such a positive role model who is not just keen to share his story but he also has a beautiful willingness to help and encourage those around him. He is an inspiring person who has the ability to lift those around him with his positive nature."
Active Tameside is a not-for-profit organisation which operates community leisure centres across the borough and provides an extensive programme of health and social care intervention services in partnership with Tameside Metropolitan Borough Council.
As a charitable trust it reinvests every penny of profit back into providing high quality leisure facilities and its life-changing services to ensure everyone can live happy, healthy lives and reach their potential.
Ends