Published on: September 27th 2023
He was the Grimsby man, once a household name, but his life was turned on its head two years ago.
Following a stroke in 2021, former professional snooker player Mike Hallett, once World number six in the late 80s and early 90s, has been using the Wellness Hub at Grimsby Health & Wellbeing Centre, managed by Charitable Trust Lincs Inspire, as part of his recovery.
Mike is aiming to get back to fitness to qualify for the World Seniors Snooker Championship at the Crucible Theatre in May next year.
The dream isn't without challenges, but with the help and support of family, friends and the team at the Centre, Mike is determined to get there.
Mike said: "Two years ago, I was at my lowest. I lost my job, a job I loved, and my life was on a downward spiral. It was my daughter who picked me up; she was a complete rock.
"I was only 62, and I thought, I'm at my third chapter, I've still got a lot of life to live. I see this now as my second calling. I said to my daughter this morning, 'this isn't going to beat me!'".
After experiencing facial paralysis in August of 2021, Mike was rushed to the Hyper Acute Stroke Unit at Scunthorpe Hospital. The stroke affected Mike's speech and left him needing to rebuild strength and coordination on his right-hand side.
Following a referral from his GP in December last year, Mike joined the 12-week Active Forever programme. Having made great progress, this was then extended for a second round of the programme supported by The O'Flynn Foundation.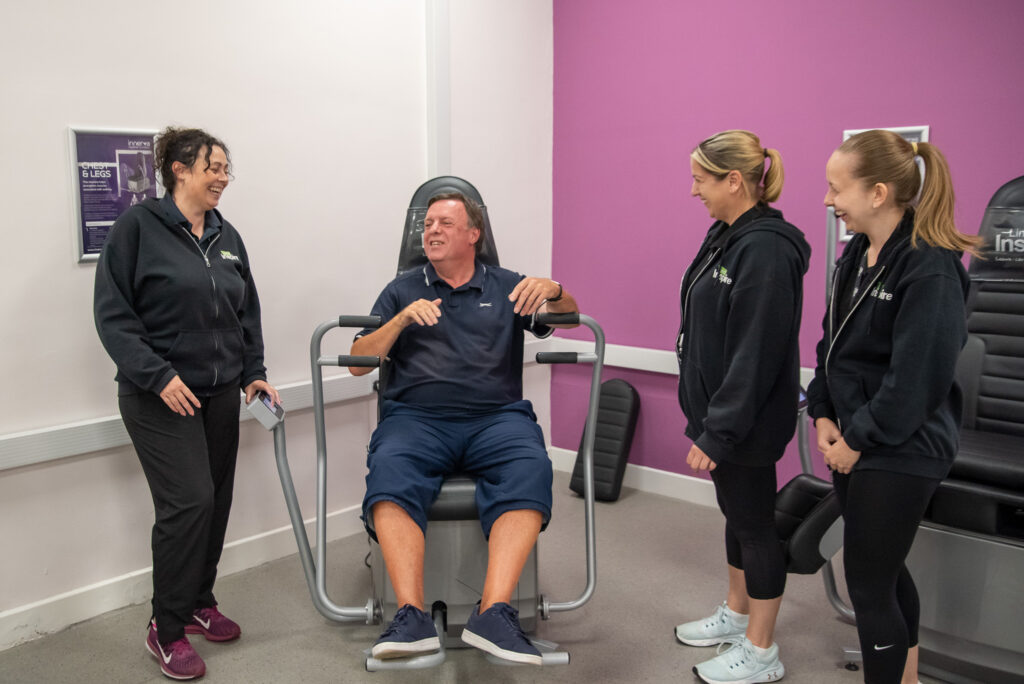 "The team here have been marvellous. Seeing them today, I've realised how much I've improved. Between here and the physio targeting my shoulder, I'm hoping to get back to where I was at some time next year." Mike added.
Despite the recent difficult times, Mike hasn't lost his sense of humour, Mike joked: "I didn't win as much as I should have done in the game, but I had to cope with Davis, and then Hendry came along!
"Speaking of which, Hendry has a lot to answer for, no wonder I'm having shoulder issues…I had to carry him for two years in the World doubles championships!"
Mike is currently semi-retired from the sport. To play in the senior championships next May, he'll first need to qualify. He plans to do so in Jersey next March.
Mike added: "Nobody knows what's around the corner. We haven't got a crystal ball, but we can stay positive, and it's that positivity that you need to come through these situations.
"I'd like to say thanks to all the team at Lincs Inspire for their support, Louis at Physio Works, all the nurses, doctors and paramedics who supported me initially, and my daughter who has been there throughout".
The power-assisted exercise equipment in the Wellness Hub at Grimsby Health & Wellbeing Centre benefits people with a range of health conditions, including those living with the effects of a stroke, as it can help the return of movement over time.
It can be accessed via the Lincs Inspire 12-week GP referral programme Active Forever, where two forms of activity are recommended per week. Speak to your GP or health professional for a referral.
For a limited time, fully-funded places are available for eligible residents in North East Lincolnshire thanks to Government funding.
The Wellness Hub is open for visitors and free tours on Sunday, October 1, as part of the Older People's Wellbeing Fayre.
For more information, visit www.lincsinspire.com or call (01472) 323100.
Ends