Published on: November 3rd 2020
A UNIQUE exercise, nutrition and wellbeing programme delivered in community leisure centres to help thousands of cancer patients prepare for and recover from major surgery shows how innovative co-working between the leisure and healthcare sectors in Greater Manchester is creating better patient outcomes and NHS savings.
Around 16,000 people in Greater Manchester are diagnosed with cancer every year. People here have a greater chance of getting cancer than the national average and are typically less prepared and resilient, physically, and mentally, for cancer treatment than patients in other regions.
Prehab4Cancer is a co-designed transformation programme between GM Active and GM Cancer which supports more than 1,000 cancer patients every year living in Greater Manchester through freely accessible physical activity, nutritional support, and wellbeing interventions.
The aim is to help patients (and their loved ones) to cope with cancer treatment and feel better, physically, and mentally. Prehab4Cancer is designed to help people take an active role in their cancer care and live as well as possible with and beyond cancer.
In Greater Manchester, many organisations and individuals have adopted the phrase 'we do things differently here' as a badge of identity and honour. The phrase reflects the region's culture of innovation, independent thinking, and collaboration. The Prehab4Cancer programme reflects this culture too. It is the UK's first regional system of large-scale, physical activity-supported prehab and recovery as a standard of care for cancer patients.
GM Active is the delivery agent for the programme. As a collective of 12 Greater Manchester leisure and community organisations, it aims to get more people physically active and to improve the health and wellbeing of local communities.
GM Active member-organisations manage the bulk of the publicly owned leisure and physical activity assets and services on behalf of the 10 local authorities in Greater Manchester for the good of the whole population. Members are Active Tameside, Bolton Arena, Bolton Community Leisure, Bury Leisure, Inspiring Healthy Lifestyles in Wigan, Life Leisure in Stockport, Link4Life in Rochdale, Manchester Active, Oldham Community Leisure, Salford Community Leisure, Trafford Leisure and Wythenshawe Forum Trust.
Pete Burt, Chair of GM Active, said "Prehab4Cancer is a trailblazing programme which the healthcare and leisure sectors in Greater Manchester have collaborated to co-design and co-deliver. Our gym and leisure facilities are on the frontline of the prevention agenda, contributing hugely to both wellbeing and productivity across Greater Manchester and reducing the burden on the NHS. This programme is helping patients take control of their diagnosis, giving them the opportunity to improve their health and wellbeing before their official treatment has even started."
Prehab4Cancer's prehabilitation and rehabilitation services for people diagnosed with cancer have been developed for several reasons:
A high proportion of people with cancer in Greater Manchester are commonly less active and often have several co-morbidities in comparison to many other regions.
They were often entering cancer treatment with low fitness, low preparedness (psychologically and practically), poor nutrition and other physical and psychological needs which caused complications.
The importance of preparation 'prehabilitation' and active recovery in cancer treatment is increasingly recognised by patients and healthcare providers globally.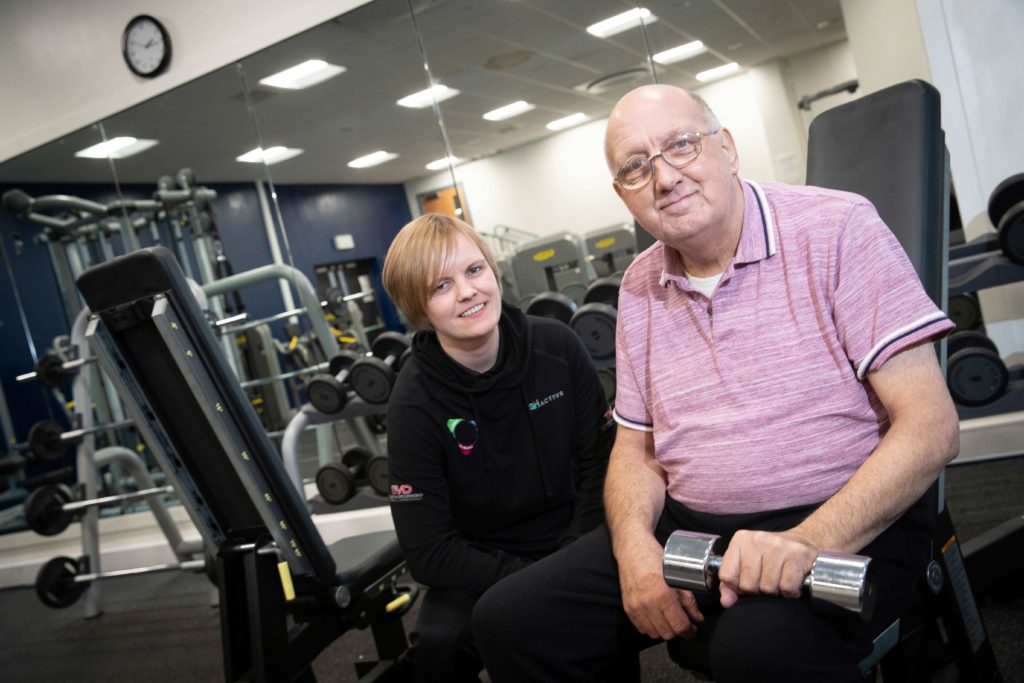 To deliver the system change required for Prehab4Cancer, many organisations have been involved in the co-design and co-delivery of the programme alongside GM Active and GM Cancer. These include local healthcare providers, the GM Cancer User Involvement team, Health Innovation Manchester and the Manchester Allied Health Sciences.
During the Prehab4Cancer programme, patients are supported before and after cancer treatments (including surgery, chemotherapy, and radiotherapy) and where applicable during treatment to have increased physical activity and fitness.
Research suggests patients who undergo prehab should have improved clinical outcomes, including improved survival rates, greater tolerance to radical treatments and reduced post-operative complications. This should lead to reduced time spent in hospital or the need for hospital readmission.
This a test project and we are utilising the latest, emerging prehabilitation evidence to focus on patients treated within the colorectal, head and neck, lung, and oesophago-gastric cancer pathways.
A highly skilled team of Level 4 GM Active instructors stratify each referred patient into a moderate or low risk group and provide activity sessions for them. Much of the intervention's participants will engage in will be provided locally to where they live in GM Active facilities and will be personalised to their level of ability and their personal choices.
During prehab, patients undertake moderate to high-intensity cardiovascular exercise and strength-based training three times a week for up to 12 weeks. This prepares each patient physically and mentally for the stress of major surgery.
After surgery during the rehab phase, they take part in 12 weeks of physical activity based on their interests including free access to GM Active facilities along with home and community-based activities. This has a greater focus on a graded return to exercise and long-term change of behaviour.
Prehab4Cancer was launched in April 2019. Outcome measure results show participants are getting fitter and stronger during prehab before surgery and maintaining their weight and BMI. Anecdotal feedback from healthcare professionals highlights the quick recovery that patients make after surgery, particularly in how quickly they recover their mobility which reduces their time spent in hospital.
Feedback from patients is very positive too. One participant, David Fowles, said: "If someone had previously told me that I would be going to the gym, I'd have laughed at them. My consultant asked if I would like to give it a go, explaining the idea that if you're fit before surgery, it will get you out of hospital quicker, so I said yes.
"I went to meet my instructor [at the gym] and I was struck by her enthusiasm straight away. I had an assessment and she coached me through the exercise programme. Within a few weeks I was doing one-hour sessions and my instructor was pleased with my blood pressure and heart rate.
"The cancer surgery was quite daunting and took over 10 hours. I was told I would be in hospital for two, three or four weeks. Well, I was out within nine days. I could not believe it. All this is down to the Prehab4Cancer programme and the instructors' supporting our activity – it has been marvellous. I am so grateful that I took part in this programme. I'm keen to keep going [to the gym] once or, if I can, twice a week."
The exemplar Prehab4Cancer programme shows just what can be achieved by structured and imaginative co-design and collaborative working between the clinical healthcare and physical activity providers across Greater Manchester.
More information and patient testimonials can be seen on the website prehab4cancer.co.uk. For further details about GM Active, visit gmactive.co.uk.
Header photo showing GM Active fitness specialist Jack Murphy with participants Edward Parr and Catherine Dalton.