Published on: October 2nd 2023
OUTDOOR yoga has proved a big success at Queen's Park in Burnley – the first and only park in the north of England to host the free weekly gathering. 
Called Park Yoga, it has so far only been staged in 30 parks across the south, but thanks to funding from Burnley Leisure and Culture (BLC), it launched in Burnley in May, with the latest session on September 17th being the last in this year's series. BLC will be restarting the classes next Spring following this year's encouraging attendances that saw an average of 75 people taking part each week over the 20-week season.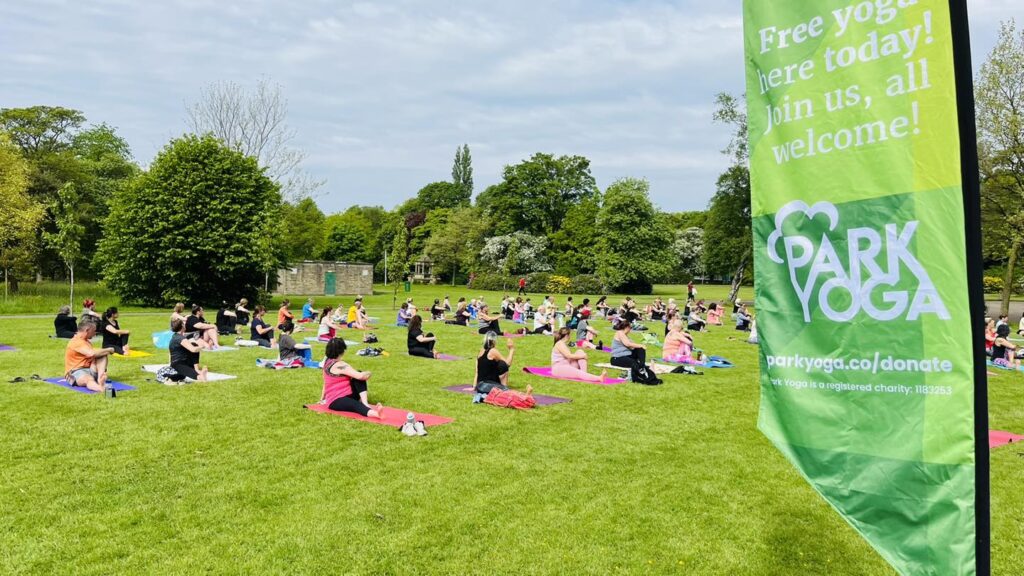 Cheryl Goodman, BLC's Health Partnership Manager, says: "As a local charity, we are keen to continue to invest in our community. Park Yoga is a fantastic example of something that's for everyone and encourages residents to visit and make use of one of the town's amazing parks."
Like its Parkrun namesake, Park Yoga takes place on the same day and at the same time every week: in this case 9.30-10.30am every Sunday. Everyone is welcome regardless of their age, ability and experience level.
The pace of the sessions and movements are gentle, making them perfect for people wanting to try yoga for the first time.
One participant, Paul, said: "I was apprehensive to try Park Yoga at first, as I'm not the most flexible person. I'm very glad I did though, as I soon realised that most people there had various abilities and without standing out in the crowd, I became very comfortable very quickly and benefited from every session I attended."
Yoga is known for its beneficial impact on physical and mental wellbeing and is recognised by the NHS as good exercise for helping to build strength and flexibility.
Melanie de Meester, Health and Wellbeing Coach at Burnley West Primary Care Network, says: "The goals and values of the Park Yoga are very much aligned with our local priorities of increasing access to enjoyable and inclusive ways to be active.
"Additionally, the fact that the sessions are held outside, supports our focus on creating more opportunities to enjoy the outdoors via Burnley's 'Outdoor Town' campaign, which simply means we focus on promoting the wonderful outdoor spaces we have throughout the borough."
Dr Shine Babu, an experienced registered Hatha yoga instructor, says practicing yoga outdoors is noted for supercharging all the benefits of doing it indoors – reduced stress, depression, anxiety and blood pressure, whilst it can help improve mobility, psychological wellbeing and quality of life.
Kieron Roberts, Parks Development Manager at Burnley Borough Council, adds: "We are thrilled to be working in partnership with Burnley Leisure and Culture and the NHS to facilitate free yoga in Queens Park. The turnout this year has been amazing, and it's been great to see so many people using the park for health and wellbeing purposes."
Ends