Published on: June 4th 2019
The Community Leisure UK 2019 Awards ceremony championed and showcased some of the outstanding achievements of member trusts. The awards were an evening of excitement and celebration, held at the iconic Lowry Theatre at Salford Quays on 22 May, and hosted by Sky Sports
presenter Hayley McQueen. Ms McQueen delighted the audience with anecdotes and tales, whilst ensuring the focus was on community trusts and their abilities.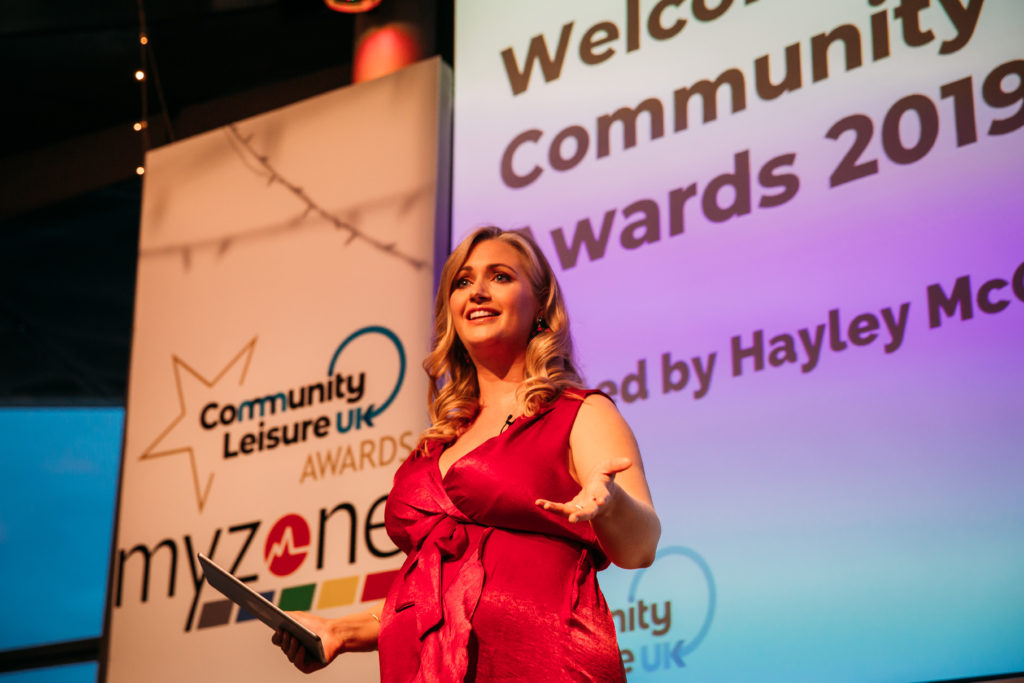 The awards event and celebrations were generously supported by Myzone as principal sponsor, with a warm welcome from David Stalker, Myzone's CEO of EMEA, to open the evening event.
This year's ceremony highlighted the unique and distinctive nature of leisure and culture trusts, and the broad capabilities of the trust model. Although the landscape is particularly challenging, the awards night focused on celebration and shining a spotlight on the community leisure trust collective right across the United Kingdom.
There was a fantastic response from members, with 85 entries received from trusts across the eight award categories. The panel of 11 independent judges, chaired by retired Tees Active MD Steven Chaytor, assessed each application and shortlisted four finalists per category. The standard was of
applications was very high, and choosing the finalists and winners was particularly challenging, though uplifting. Independent judge Michelle Roberts from The Richmond Group commented "It was really interesting and heartening reading the submissions; so much great work going on across the sector and UK".
The winners for each of the eight categories were: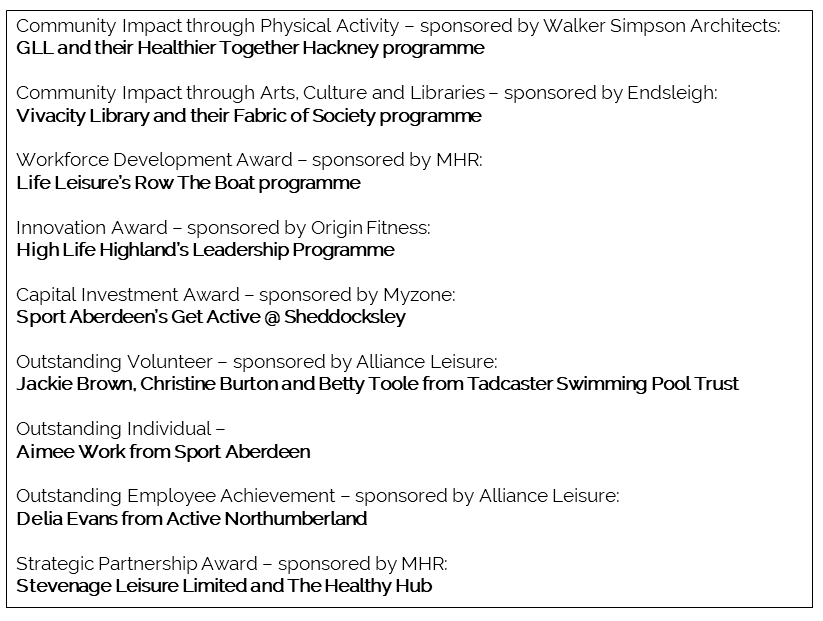 Reflecting on the awards evening, Community Leisure UK Chief Executive, Cate Atwater, noted "The incredible work with communities delivered by trusts often goes under the radar and, as the association that champions the trust model, we have a role to play in bringing them to the fore. It is a huge honour for us to organise such an awards evening to ensure that the trusts' and individuals' contributions are recognised, thanked, and celebrated as they rightly deserve".
Community Leisure UK congratulates all finalists and winners on their significant achievements. Equally, huge thanks are extended to all members, guests and partners who joined, and supported, the awards evening to celebrate colleagues, friends and fellow community trusts.